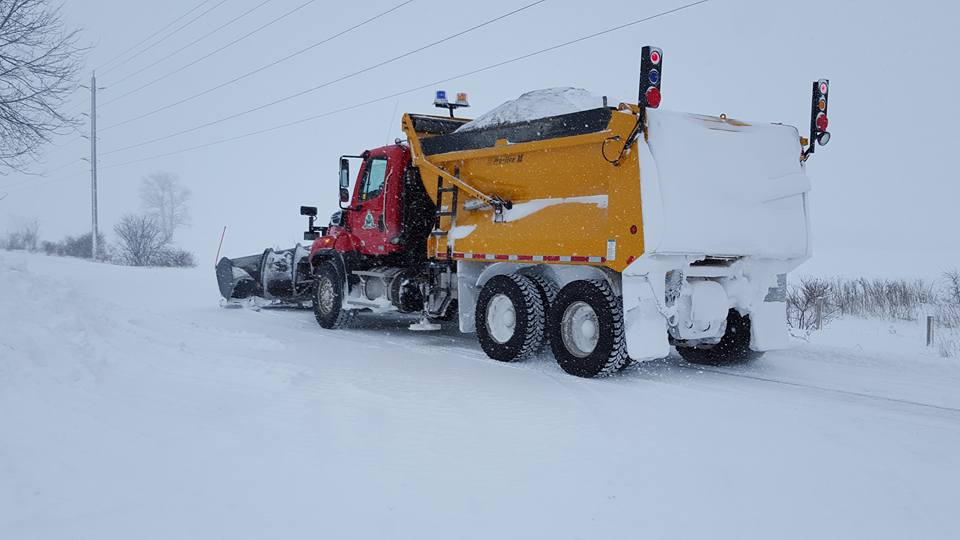 Want to report a damaged mail box or lawn?  Report it
Current Road Construction Projects
Alice Street/Saintsbury Line - Drawings
Winter Road Maintenance 
---
Lucan Biddulph's winter road maintenance program aims to provide safe roads and sidewalks at an affordable price. The municipality has a well-equipped, 24/7 response team that maintains the roadways and sidewalks. 
After the snowfall ends, it can take 8 to 12 hours to clear priority roads, and 24 hours to clear all municipal roads. A larger or continuous snowfall event may extend the time necessary to clear snow from local streets and cul-de-sacs.
Sidewalks are cleared after more than 5 cm of snow accumulates. Sidewalk clearing is generally completed within 24 to 48 hours after the end of the storm;  however, when we have a heavy snowfall, or successive winter events back to back, it will take longer to clear all sidewalks. Sidewalks are cleared to a snow packed condition, as the snow equipment does not allow for clearing down to bare pavement.
How can you help after a snow event?
Be patient. In heavy snowfalls it takes us longer to get all our roads cleared.
Be a good neighbour. Help those who may not be able to shovel their driveways and sidewalks.
Don't park on the street during a snowfall - or immediately following a snowfall if plowing is still needed. Also, please do not park your vehicle at the very end of a driveway or across the sidewalk/boulevard area. Plow operators are not able to do their job properly if there are parked vehicles in the way.
Keep a safe distance from plow trucks on the roads and do not attempt to pass. Vehicles attempting to pass create a safety risk for everyone on the road.
Don't place snow from sidewalks or driveways on the street. It creates a hazard for vehicles, and the Highway Traffic Act prohibits the placing of snow or ice on a roadway.
If you have a fire hydrant on or around their property, please clear the snow.
Road Closures
---
Notices about planned road closures are included in our Public Notices. Whenever possible, information on emergency road closures is shared via social media and posted on the website.